House and Senate Democrats are fiercely fighting against Donald Trump. It's time we noticed.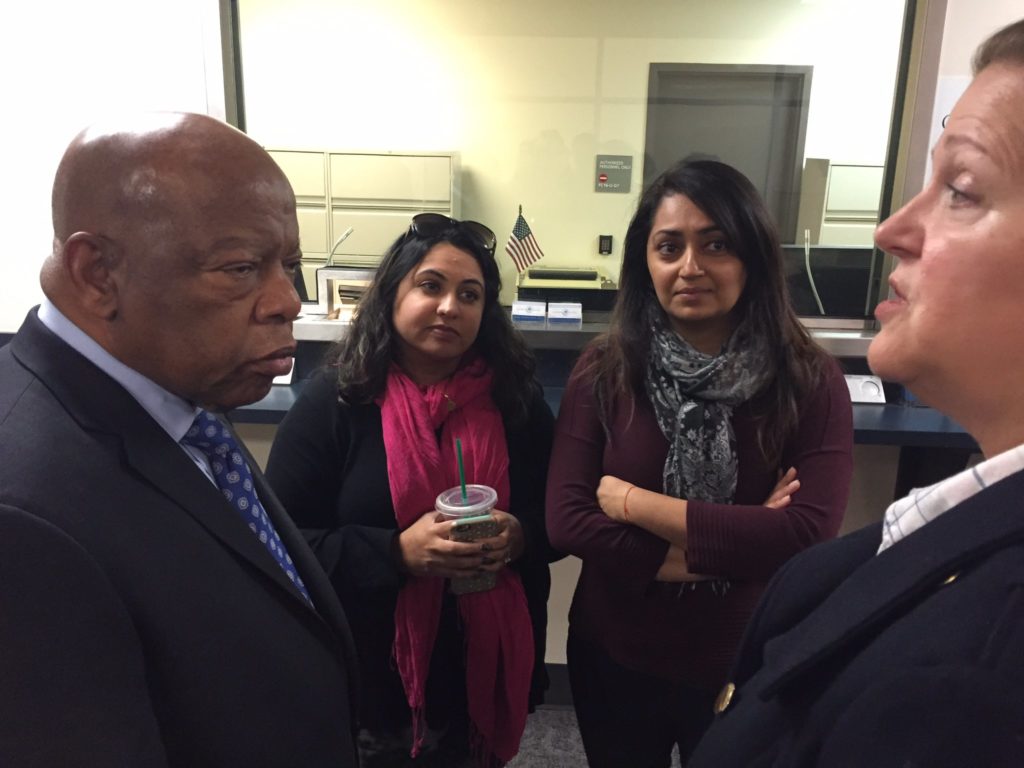 Over the past forty-eight hours since Donald Trump issued an executive order banning people from seven Muslim countries from entering the United States, leaving innocent people detained at airports amid unconstitutional chaos, mainstream Americans have sprung into action across the nation. Spontaneous protests in support of the detainees took over airports across the nation. Members of congress rushed to airports to demand their immediate release. Amid all the civil action, one photo in particular sums up the entirety of how America is feeling — and demonstrates that the Democrats in Congress are in fact "doing something" about Trump.
Congressman John Lewis of Atlanta, whose civil rights activism dates back to when he led the Selma March, traveled to Hartsfield–Jackson Atlanta International Airport in his home district in Georgia. He began asking questions of the on-site immigration officials, such as how many people were being detained. When he couldn't get a simple answer, he shot this glance at the uncooperative agent: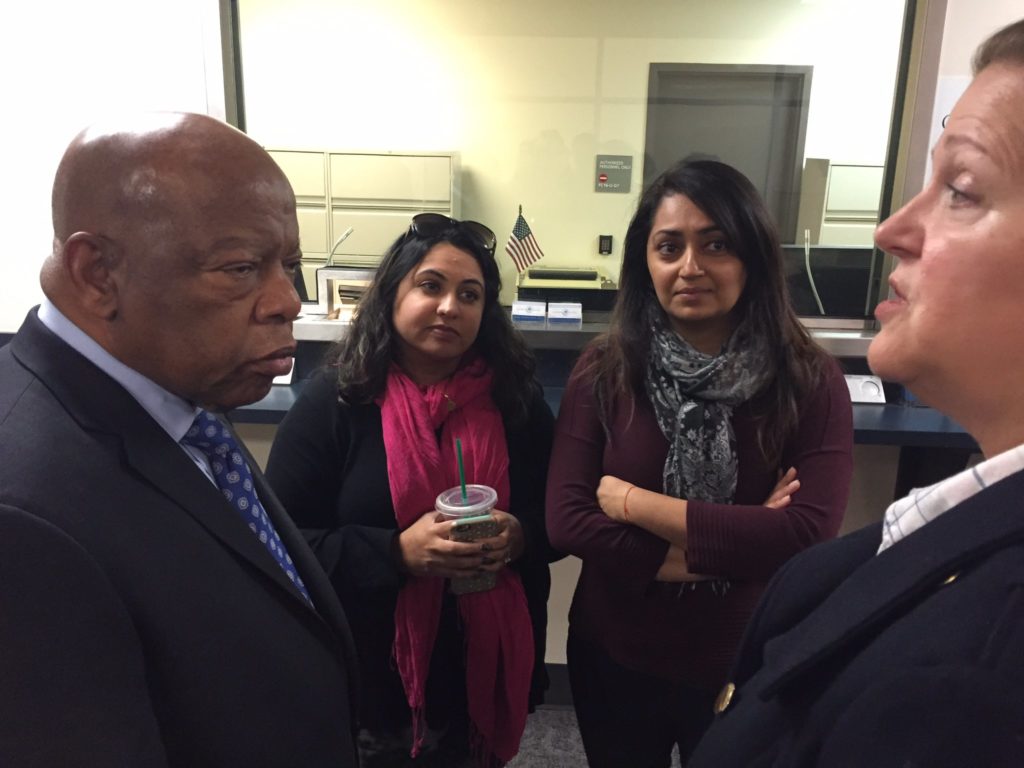 The moment was captured by Jeremy Redmon of the Atlanta Journal-Constitution, who reports that after John Lewis couldn't get any answers, he said "Why don't we just sit down and stay a while." Then Lewis did indeed sit down in solidarity with the protesters, in a compelling story which Redmon has subsequently published in his newspaper. Lewis was far from the only member of Congress to turn up at airports over the weekend for the same reason.
Congressman Jerry Nadler and Nydia Velazquez of New York traveled to JFK Airport on Saturday, the site of protests so massive they took over an entire terminal and every floor of the accompanying parking garage, and were able to secure the immediate release of an Iraqi who had assisted the U.S. during the Iraq War.
Congressmen Jerry Raskin and Jerry Connolly both traveled to Dulles Airport in Washington D.C. to try to secure the release of detainees. Congressman Ted Lieu joined Los Angeles Mayor Eric Garrett at a protest at LAX Airport. Senator Elizabeth Warren was seen shouting into a bullhorn at a protest at Logan Airport in Boston. And Senator Kamala Harris led a protest outside the White House that was so large it shut down Pennsylvania Avenue. And there were other Congressional Democrats in action over the weekend.
But the photo of John Lewis staring down the immigration official at the Atlanta airport most iconically captured the mood of the nation.
Not My President • Impeach Trump Now
Bill Palmer is the publisher of the political news outlet Palmer Report