NY Times falsely claims "tens of thousands" attended half empty Donald Trump event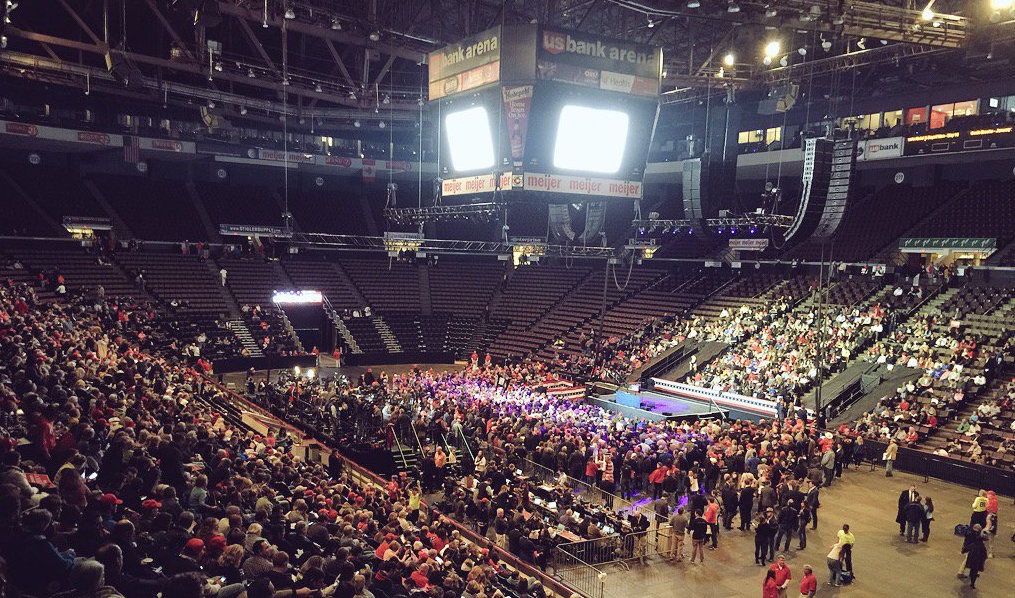 Last night Donald Trump kicked off his would-be victory tour with a rally in Cincinnati that was poorly attended, particularly in comparison to the kinds of crowds he had been consistently drawing during the campaign. Various credentialed reporters posted photos from multiple angles which showed the seats at least half empty. So why did the New York Times falsely report that "tens of thousands" of people attended the event in question?
Google officially lists the seating capacity of U.S Bank Arena, where last night's event was held, as being 17,556. There's no official information on how many additional people can fit standing on the floor, but various other similarly sized basketball venues list their standing floor capacity as being around two thousand people. So even if Trump had drawn a capacity crowd in Cincinnati las night, he would still have drawn fewer than twenty thousand people, meaning it's not physically possible for the "tens of thousands" claim in the NY Times to be true.
Moreover, the photos posted by credentialed reporters in attendance from The Guardian and The Daily Telegraph (above photo courtesy reporter Ruth Sherlock) make visibly clear that the seats were at least half empty. And the Cleveland Plain Dealer newspaper, located in the state where the Trump rally took place, agrees that the event was "only about half full."
And yet in an article by-lined by By Nick Corasaniti and Michael D. Shear, the New York Times is insisting that "In his first major address since winning the presidency three weeks ago, Donald J. Trump soaked up the adulation of tens of thousands of his supporters at a campaign-style rally here, unabashedly gloating about the "great" victory he had secured." This could have been some kind of honest oversight. But in light of recent events between Trump and the Times, it's worrisome.
Just ten days ago, Donald Trump held a meeting with the New York Times at its headquarters in Times Square, Manhattan. We know this because the Times itself reported on its own meeting. There is no evidence that Trump threatened the Times during this meeting. However, Trump had held another meeting with cable news reporters just days earlier in which he berated them. And now, shortly after Trump's meeting with the New York Times, the newspaper is suddenly wildly inflated and physically impossible attendance numbers at Trump's latest rally. If nothing else, this is an alarming moment worthy of keeping an eye on going forward.
Bill Palmer is the publisher of the political news outlet Palmer Report