Donald Trump may have just released a statement about leaks under Deputy AG Rod Rosenstein's name
Something serious is going on within the Department of Justice tonight, and to borrow a phrase from this week's congressional hearings, something just doesn't smell right. The DOJ released a surreal official statement under the name of Deputy Attorney General Rod Rosenstein which, to put it mildly, doesn't sound like it really came from Rosenstein.
Here's the DOJ press release, which was posted to Twitter by Politico reporter Eric Geller this evening: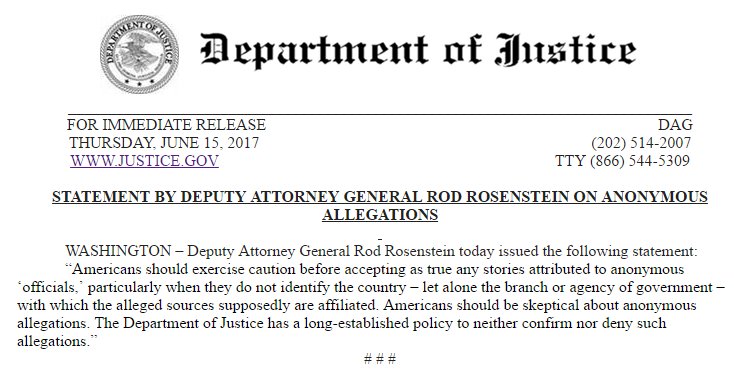 Despite this being a relatively brief statement, there's a lot to unpack here. The reference to leaks that "do not identify the country" suggest that at least some of the Trump-Russia leaks surfacing in the media right now may be from overseas intelligence agencies. That's not a surprise, as various leaks seemed to have come from the European intel community. But moreover, this statement doesn't sound like something that Rod Rosenstein would write or release. Instead, we all know there's only one person in the Donald Trump administration who's obsessed with leaks.
The verbiage of this press release is too sophisticated to have been written by Donald Trump himself. But it's precisely the kind of statement he'd want out there right now. So did he twist Rosenstein's arm into putting out this release? Did he have one of his own handlers write it, and release it under Rosenstein's name? Is recused-but-not-really-recused Attorney General Jeff Sessions behind this? Does Rosenstein even know that this press release has been issued in his name? Something incredibly bizarre is happening here. There is obviously more to come with this developing story.
Bill Palmer is the publisher of the political news outlet Palmer Report