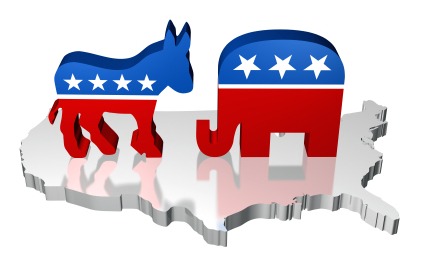 In the 2022 midterm elections, Republicans only gained 8 seats in the House, which is remarkable considering some polls falsely predicted a gain of over 20 seats. The 8-seat gain by the GOP is the exact margin by which Democrats took control of the House (and barely took the Senate) in 2018, for which Democrats were pilloried. Turnabout is fair play. The 2022 "Red Wave" left the GOP with only a slim House majority, AND the GOP failed to take the Senate. Who's laughing now?
Moreover, since 2010, the midterm elections have resulted in 250- to 600-legislative seat swings for the party opposing a sitting president. Yet, in 2022, Republicans only gained 22 legislative seats. Although Republicans strengthened legislative control in red states, Democrats defied history with state "Trifectas" winning several new ones, while the GOP gained no new trifectas or veto-proof state legislatures in states where Democratic governors hold veto power.
Let's take a moment to appreciate how Democrats used a surgical approach in the 2022 midterms, despite the odds and a last-minute wave of fake polls irresponsibly disseminated by mainstream media. Focusing on winnable races, Democrats carved out every seat possible. Imagine if Democrats had wasted precious resources on red states where the GOP still controlled mapping. Instead, Democrats left the Red State fever run its course, for now, which was hard to watch, but paid off.
Possible remaining fallout from the 2022 midterm elections: In the Senate, Georgia is an example of focusing on winnable federal elections despite Republican state legislative control. If Senator Raphael Warnock keeps his seat this Tuesday and the Senate goes 51-49 to Democrats, majority leader Chuck Schumer will no longer have to share power with Mitch McConnell.
Lastly, if the 213 House Democrats find just 5 House Republican votes, they could have the 218 needed to elect someone like anti-insurrection ally Liz Cheney as GOP House Majority Leader. Let's do everything possible to make sure Warnock crosses the finish line. Then Democrats can regroup, sharpen our scalpels, and cut away more of the red malignancy.
Chicago native Lorraine Evanoff earned her degree in French from DePaul University then became a Certified Financial Manager. She worked as a finance exec in film production for seven years in Paris, then in Silicon Valley during the dot-com era, and later for various Hollywood production companies, notably as CFO of National Lampoon. She is currently living in Los Angeles with her husband.