Sidney Powell is now reportedly cooperating with the DOJ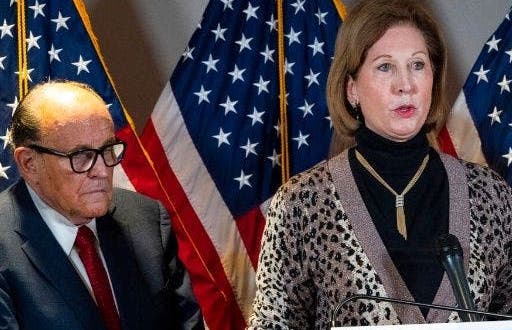 When the Washington Post reported back in November that the DOJ had a grand jury investigation going into the finances of former Trump election lawyer Sidney Powell, it felt like a huge piece of the puzzle – but it's since been largely ignored. As these things tend to go, however, there are now major developments in that case, which have huge ramifications for Trump world in general and Donald Trump in particular.
Earlier today a draft order surfaced which would have instructed the U.S. military to seize voting machines. Donald Trump never signed this order, and the Supreme Court would have promptly shut him down if he had (just as it shut down his other attempts at overthrowing the election results). But the draft order itself is a crime. And while no one seems to know who wrote it, multiple major publications have pointed out that the memo strongly echoed the schemes that Sidney Powell, Rudy Giuliani, and others were pitching to Donald Trump at the time.
Now, in a development whose timing does not feel like a coincidence, Sidney Powell's attorney is telling CNN tonight that Powell has begun cooperating with the grand jury that's investigating her, and is even going so far as to turn over documents to the grand jury.
The caveat here is that "cooperating" can mean a few different things. It's possible that Powell is turning over her financial records to the grand jury because she believes that she's somehow going to exonerate herself, but this seems unlikely even for someone as absurd as her. The other possibility is that she's cooperating with the DOJ investigation because she's decided to cut a plea deal against Trump world.
If it's the latter, it'll mean that the DOJ now has a cooperating witness against the likes of Donald Trump, Rudy Giuliani, Lin Wood, Jenna Ellis, you name it. We'll see where this goes. But the key here is that Sidney Powell and her lawyer appear to be announcing this "cooperation" with the DOJ in relation to the draft order. Is Powell suddenly cooperating because she's afraid the draft order will put her behind bars? Is Powell the source of the draft order? Stay tuned. This development isn't entirely clear yet, but something is definitely brewing.
Bill Palmer is the publisher of the political news outlet Palmer Report