Republican midterm prospects just took a blow from the Supreme Court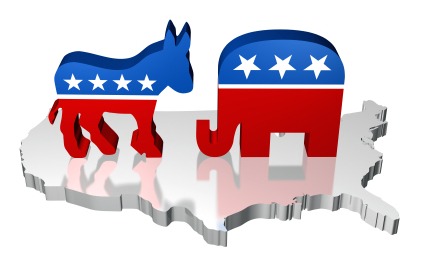 We have been hearing for months now that Republicans will retake control of the Senate after the Midterm elections. Many so-called experts look to tradition, which says that the party who controls the White House typically loses Congress in the next cycle. Today, however, we have so many nuts for the Republican party, not to mention lovers of white nationalists like Paul Gosar and Marjorie Taylor Green. Of course, those two also fall under the category of "nuts," and therein lies the biggest problem in the Republican party. Members of the old guard Republican party, like Mitch McConnell, want more normal (as "normal" as a Republican be) people running for office, and they know their chances are better if they are successful. Recently, however, McConnell and company got some bad news: Arizona Governor Doug Ducey has decided not to run against Mark Kelly.
McConnell was one of the main ones pumping Ducey up for the run. As a result, they are left with little choice for taking Mark Kelly's seat. Good. According to Associated Press ("AP"), the primary in Arizona is crowded, and Ducey was the clear frontrunner. Now, who knows which of the other Republicans will come out on top, and they have no clue how any of them will do against Kelly. AP also reported that many Republicans are having trouble keeping pace with Democrats in fundraising, especially in Arizona, Georgia, and Nevada. We certainly do not need Herschel Walker representing Georgia; he doesn't even live here. That is merely one of the more ridiculous races out there right now. Then, you have Rick Scott and his crazy "rescue plan," which is hurting Republicans far more than it is helping them. Even as Republicans struggle to gain traction, the Supreme Court dealt them a blow.
Reuters reported that the Supreme Court denied Republican requests to hold lower court rulings that stopped their gerrymandering in North Carolina and Pennsylvania. SCOTUS ruled that the electoral maps approved by the state courts will be allowed to stand. The state courts had to step in because of the obvious gerrymandering being conducted by Republicans in those states, which were drawn by Republican legislators. What a surprise that the drawings were patently unfair and designed to give Republicans the edge. No, the surprise is that SCOTUS ruled against them, though they had their support there as well. Reuters reported that Alito, Thomas, and Gorsuch dissented from the majority opinion, which was supported by all three liberal justices and three of the conservative justices. Take that, Republicans. Stop trying to cheat and give people a reason to support you. As long as they refuse to do anything about their crazies like Greene, Boebert, Gosar, and Gaetz, to name a few, they should expect that normal conservatives are not going to go out of their way to support them.
Several states are having to deal with Republican gerrymandering, but as evidenced by SCOTUS' recent ruling, the people can fight-and win. There must be a level playing field so that everyone can fairly compete. Let the best candidate win, regardless of party affiliation.
Shirley is a former entertainment writer and has worked in the legal field for over 25 years