Oprah, if you're listening…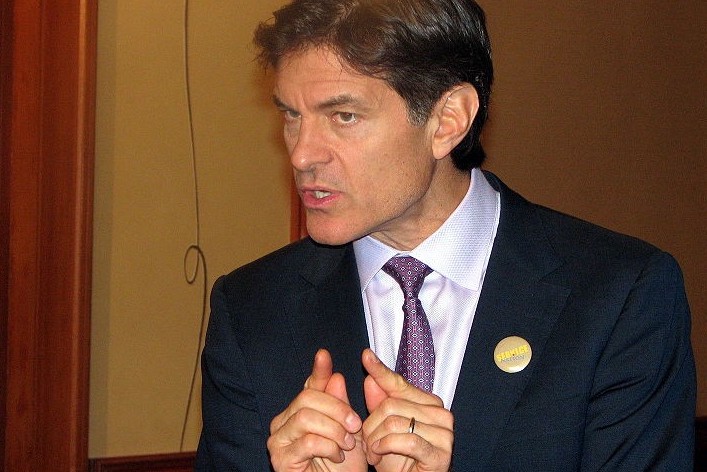 I am what you might call a quiet admirer of Oprah Winfrey. I've seen very few of her shows and know only what most people know about her, but what I have seen and what I do know has been largely positive. In short, Oprah's scorecard with me has been excellent, and it would be perfect were it not for one thing: her taste in people sucks.
From the inappropriately angry "Dr. Phil," to Deepak Chopra, to anti-vaxxer Jenny McCarthy, Oprah Winfrey has had a career-long love affair with junk people promoting junk science. Possibly the worst of the bunch is quack medical man doctor Mehmet Oz, or "Dr. Oz" for short, whose disdain for science and disregard of evidence-based medicine is legendary. Were it not for Oprah and her promoting him we might not even know his name. As it happens he's another Trumpist Republican celebrity wholly unfit for public office, running for the United States senate in a state in which he doesn't even live.
Dr. Oz lives and maintains a mansion in New Jersey. New Jersey is where he last voted. But he's running for the senate in Pennsylvania, and he is that state's current Republican nominee. His "residency" in Pennsylvania is so tenuous as to be legally nonexistent. His in-laws, with whom he stays from time to time, live there. And he went to school there. But because he's rich and powerful (and was endorsed by Oprah at one time) he's managed to get away with the fiction that his principal residence is in Pennsylvania, even though it isn't. Like I said, it's in New Jersey.
As a former resident of both states I can vouch for the fact that they are very easy to tell apart. I never had any problem with it. Except for small pockets of Republicans here and there, New Jersey is a blue state. Pennsylvania, on the other hand, is a swing state. It was the last state I occupied before moving to England and, as such, I was privileged to cast my absentee vote there for the winner in 2020, Joe Biden.
Oz knows he couldn't get elected dog catcher in New Jersey as a Republican so he's running for senate in Pennsylvania where he's got a better shot at it. The good news is he's losing in the polls to John Fetterman, the Democratic nominee. The bad news is Fetterman recently had a stroke. Both men are contending for the seat being emptied by Republican Pat Toomey.
Even as a recovering stroke victim, Fetterman's odds against Oz are good. But one thing would make them perfect, if only Oprah would come out and remove her endorsement from Mehmet Oz. She could do that any time. Why doesn't she?
Oprah is one of those celebrities who could become governor of Illinois with a nod, or even the Democratic candidate for President of the United States at the price of a few beads of sweat. But she has the rare good sense not to. She knows she's unqualified and, unlike with, say, Donald Trump, that piece of self-knowledge has actually stopped her from running.
It would be even better if Oprah could apply her political good sense in a practical way and publicly remove her impermatur from Mehmet the malignant mountebank. Perhaps she's embarrassed to admit it. After all, telling the world she was wrong about Oz means she has to tell the world she was wrong in the first place. I am pretty sure it won't hurt her, and it would certainly do us a lot of good. There is simply too much at stake in the midterms to get it wrong. So Oprah, if you're listening … well, you know what to do. And, as ever, ladies and gentlemen, brothers and sisters, comrades and friends, stay safe.
Robert Harrington is an American expat living in Britain. He is a portrait painter.