Donald Trump's "notepad" photo was taken at some woman's desk at an auction house (updated)
Update: Palm Beach Show Group is claiming that the desk in this story was located at Donald Trump's home of Mar-a-Lago at the time the photograph occurred. However, this claim can not be taken at face value. Palm Beach Show Group and Donald Trump have long had a close personal and financial relationship.
For instance the CEO of Palm Beach Show Group, Scott Diament, is a paying member of Trump's club where they both socialize (source: his Facebook page), meaning he paid at least six figures to Trump to become a member (source: CNBC). This means that Palm Beach Show Group must be viewed as a biased, financially entangled, and unreliable source when assessing the question of whether this photo was taken in a location that could be viewed as more embarrassing or less embarrassing to Trump; Palm Beach Show Group had every motivation to cover for Trump in this matter.
We thoroughly reject the subsequent faulty "fact check" from Snopes (link) which tries to make the definitive claim that the photo was taken at Mar-a-Lago, but bases its conclusion solely on taking the word of Trump's close ally as if it were fact – a violation of basic rules of journalism when it comes to characterizing compromised sources. Palmer Report calls on Snopes to acknowledge the obviously faulty nature of its "fact check" and withdraw its unsubstantiated "False" rating. We stand by our original article.
—–
Palmer Report's original article:
Yesterday we reported that Donald Trump nearly got himself laughed off the internet when he tweeted a staged photo of himself awkwardly clutching a cheap notepad while insisting that it was him writing his inaugural address at his Florida home. Today the jokes have gotten even better, because that wasn't his home. Instead he inexplicably went to an auction house and kicked a receptionist out of her desk in order to take the staged photo of himself with the notepad.
Trump posted this bizarre photo of himself while sitting in front of a gaudy golden wall with a distinctive design pattern: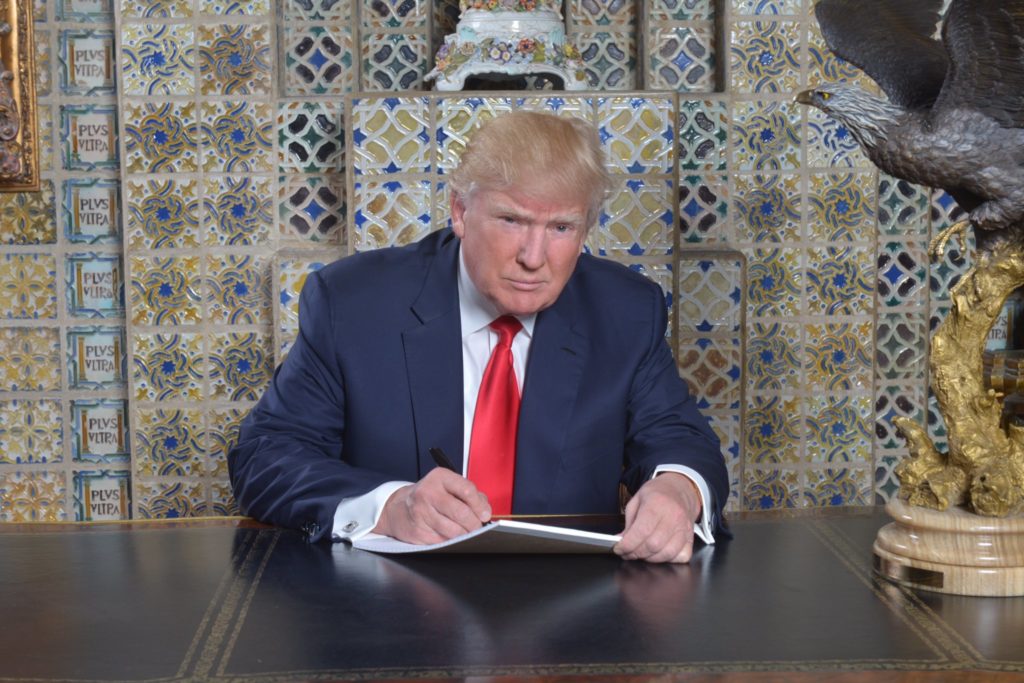 Numerous internet sleuths managed to hunt down this photo on Instagram from the Palm Beach Show Group, an auction house:
The auction house refers to it as the "Mar-a-Lago" desk which suggests it may have been in Trump's possession at one time, or it may have previously been at his house. But both photos are taken in front of the same auction house wall. And this woman is clearly now using it as her desk. So Donald Trump really did go to an auction house and take over a woman's desk and use it to take a photo of himself pretending to write his inauguration on a 99 cent notepad which he probably stole from her.
We speak for all Americans when we say that the real question here is why?
Bill Palmer is the publisher of the political news outlet Palmer Report