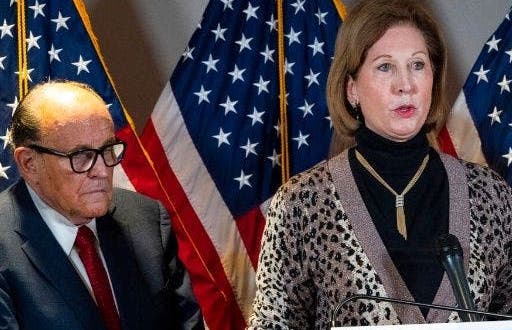 As a rule, I never wish bad on other people. They must do something heinous for me to even entertain such a thought. With that said, it is nice to see some villains get their comeuppance. This is not occurring because of anything I wished. It is karma, and as it is often said, karma is a bitch. Ask Rudy Giuliani who now has two suspended licenses in New York and D.C. Right up there with him are two other so-called lawyers, Sidney Powell and Lin Wood, who are embroiled in their own legal battles.
Dominion has sued Giuliani, Powell, and My Pillow guy Mike Lindell. Lin Wood is in their sights, though they have not yet named him as a defendant in any case. Both Wood and Powell have their hands full right now with federal judges. Back in May, Lin Wood's pro hac vice approval was revoked by Delaware Judge Craig Karsnitz, even as Wood claimed he has a "stellar reputation." Before he lost his mind, Wood was one of the premier attorneys in Atlanta. Now, both Wood and Powell face U.S. District Judge Linda Parker in the Eastern District of Michigan for potential sanctions according to Law & Crime.
They filed affidavits in the Court in their ridiculous quest to overturn the 2020 election, which Judge Parker believes "were submitted in bad faith." You think? Powell is nuts, as signified by her decision to call the bogus litigation in which she was involved the "Kraken." Sane lawyers do not "name" their lawsuits; they prosecute them. Wood had tried to distance himself from the circus, Law & Crime reported, but Judge Parker was having none of it. She had "every lawyer who signed a pleading or brief" appear before her via Zoom last week. As the hearing started, Wood claimed that he "played absolutely no role" in drafting the complaint that was filed and that he had no role in any of the filings made in Michigan. David Fink, attorney for the City of Detroit, told the Court that Wood had bragged about his involvement on social media but now wants to claim no knowledge. He further said that the entire "Kraken" fiasco is "an embarrassment to the legal profession." Powell, Wood, and Giuliani are certainly embarrassments to the profession, and Giuliani is learning that the hard way. The State Bar of Georgia has also been looking at Wood's activities and has requested he undergo a mental exam, which certainly appears necessary given his behavior at the end of the 2020 election.
Though Judge Parker has yet to make a final ruling on sanctions against Powell and Wood, other states in which their frivolous lawsuits were filed are looking to do the same Forbes has reported. Wisconsin Governor Tony Evers has asked a court to sanction the duo $100,000, and the possibility of disbarment is not off the table for either of them, as Governor Gretchen Whitmer and others have filed complaints in Michigan, and Arizona has filed ethics complaints. It is nice to see this result for two so-called lawyers who wasted everyone's time and money over a lie.
Shirley is a former entertainment writer and has worked in the legal field for over 25 years
Leave a Comment
Comments