Donald Trump's inauguration concert was tonight, and almost no one attended
Donald Trump won't be sworn in until Friday (unless Kanye runs on stage and interrupts him), but his inauguration concert was held on Thursday evening. After he famously struggled to get his preferred famous musicians to perform because no one wants to be associated with him, it's perhaps not a surprise that not many people wanted to show up to hear the concert either. But the first hand photos of the inauguration concert crowd, or lack thereof, are stunning.
Various television networks covering tonight's crowd at Donald Trump's inauguration concert have shown overhead shots, and the emptiness is striking. Some Twitter users have snagged screen captures of the broadcast. Here's one from @Yashar, which shows just about no one in attendance: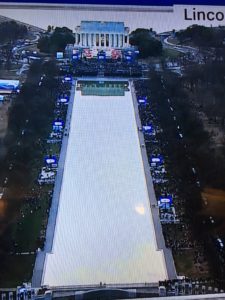 For those wondering how the attendance at Trump's inaugural concert compares to years past, TMZ's Anthony Domnic tweeted photos from Trump's 201 concert and Barack Obama's 2009 concert:

Trump's disaster


Obama's triumph
Trump was turned down by everyone from Elton John to Garth Brooks to Andrea Bocelli to Celine Dion. That left Toby Keith and 3 Doors Down as his headliners. So much for doing it "My Way."
At this point Trump's best argument would be that be that no one showed up simply because he couldn't book any musical acts that anyone wanted to see, which is not exactly a strong argument. But there's a far worse possibility for Trump: no one is at the concert because no one is planning to show up for the inauguration ceremony tomorrow either, because America hates him.
Bill Palmer is the publisher of the political news outlet Palmer Report