Dr. Oz tries to distract everyone from his scandals by… admitting he once tried to stab his sister?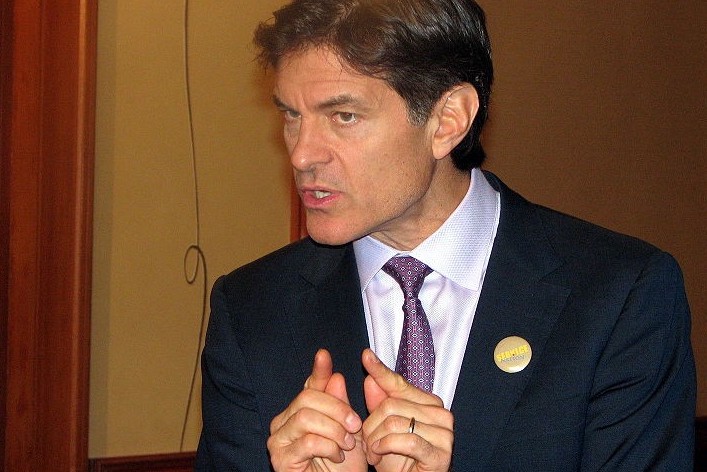 This must be the week of the troll. I am the second Palmer Report writer to have been called racist this week. A reader was angry at me for calling Mehmet Oz, "Mehmet" and not "Oz." They wondered if I did it because I was mocking his Turkish background.
I'd like to respond. The answer to that question is no; I did not. I call him Mehmet because that's his real name. I will NEVER refer to this human by the name of Dr. Oz again.
You see, I deem ANYONE who experiments on dogs to be a fake. I do not care whether he calls himself a doctor. I don't care if he IS a doctor. He does not deserve that title. He displays sadism, and anyone who could do that to helpless animals is not worthy of "Sir," "Mister," or "Doctor." He is merely Mehmet to me.
That being said, Mehmet's insanity is reaching new heights, and since the media refuses to report on it, it falls to us. An old clip of Mehmet has resurfaced. In this clip, Mehmet tells Host Jimmy Kimmel about some fond childhood memories. Aw. One of these memories involves an attempt to stick a needle into his sister's head.
Mehmet talks earnestly about his fascination with needles, to which Kimmel responds by calling Mehmet "one of the craziest people we've ever had on the show." Mehmet was happily talking about how he noticed his sister's head and how he crept up behind her, holding the needle.
"I threw it in there," Mehmet exclaimed." It didn't go in. The skull got in the way."
"I got no brain," Frankenstein complained. "I got nothing back."
How lovely that the GOP's candidate for Pennsylvania Senate gets off on sticking needles into people's brains. How on earth will the GOP explain this? Well — they might not have to since almost nobody in the media is covering it. But we are.
Why not let people know about the needle-throwing non-Doctor? Oh-that is not the only bizarre thing that is happening this week in regard to Mehmet. Mehmet ALSO told Kimmel he is an advocate of drinking one's own urine and that he had to do that in medical school. And he quite liked it.
I will end this article now before any of you become sick. Look — Mehmet is obviously not qualified to be a Senator. In these last few weeks — let's step it up for John Fetterman.