If Democrats are antsy over this, Republicans must be downright terrified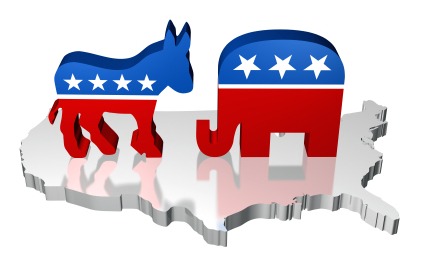 You'd think with Trump out of the White House, and Democrats in control, we would be more optimistic. Yet, it feels like Democrats must fight daily outrage to stay focused on saving democracy, like Obi-Wan Kenobi feeling a great disturbance in the Force.
That said, if Democrats feel this anxious while winning, imagine how distraught Republicans must feel. As their prospects in the midterms wane, Republicans have become increasingly desperate, reaching deeper into their arsenal of unhinged stunts to feed hate to their weak-minded base to keep them bitter and angry.
In the past week alone, Florida governor Ron DeSantis fraudulently transported undocumented immigrants across state lines; Georgia House Republican Marjory Taylor Green physically and verbally assaulted a teenaged activist; and Senate Republican Lindsey Graham introduced a federal abortion ban. Their insane strategy not only has Republicans facing horrible self-inflicted optics, some may now also be facing federal charges of Human Trafficking, fraud, kidnapping, assault, and battery.
Republicans are desperately attempting to shift focus away from issues most voters care about, like abortion rights, and protecting our democracy, and toward immigration and hate. It has worked in the past. Republicans voted for Trump even after witnessing some of the cruelest most career-ending behavior. But their jugular is now exposed. The behavior of DeSantis, Green, and Graham is heartbreaking to most Americans.
Winning the midterms is all about reaching voters in the middle and getting as many people as possible motivated to register and vote. Thanks to President Biden, Democratic leadership, federal and state attorneys general, and the January 6th Select Committee, Democrats are challenging the MAGA-extremist attempts to cling to power.
Democrats have legitimate policies and legislation, not fear and hatred. We have a strong House Speaker Nancy Pelosi who declared Democrats will hold the House and gain more seats in the Senate. We have the DNC, DCCC, and Palmer Report pooling resources to get voters to focus on winnable seats. Together we are using the Force to send a powerful wave of messaging for the greater good. A big beautiful blue wave.
Chicago native Lorraine Evanoff earned her degree in French from DePaul University then became a Certified Financial Manager. She worked as a finance exec in film production for seven years in Paris, then in Silicon Valley during the dot-com era, and later for various Hollywood production companies, notably as CFO of National Lampoon. She is currently living in Los Angeles with her husband.