This isn't going well for Ron DeSantis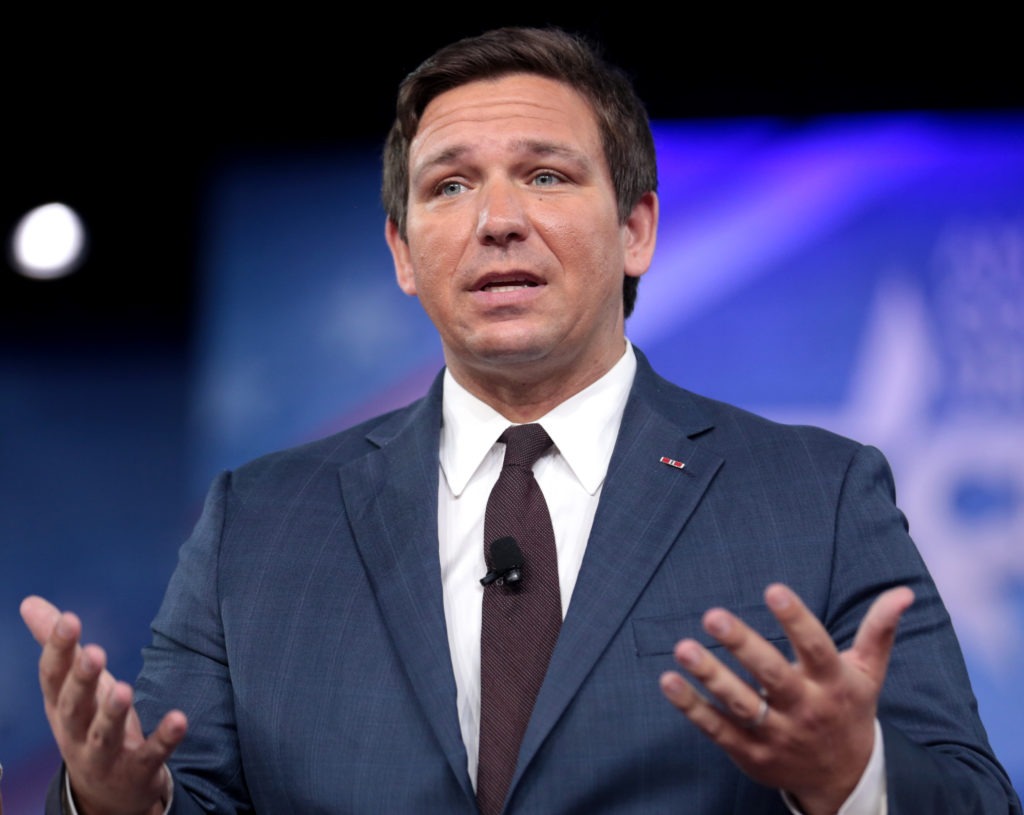 Covid-19 cases are rising in schools, and two of the states with the largest overall surges of Covid continue to enforce their executive orders that prohibit masks. According to Washington Post, this is not going well for them with the public. It is difficult to ascertain why flaunting their opposition to protecting people from Covid is so important, especially given that a vast majority of Americans want mask mandates in place. In contrast to what citizens want, Ron DeSantis thinks masks are "the most significant threat to freedom in my lifetime, certainly since the fall of the Berlin Wall." Really? This man really lives in his own world.
According to a recent Axios-Ipsos poll, 78% of Americans are concerned about the Delta variant, yet only 64% support mask requirements in their states. That number rises to 69% support for masks in school, which brings us to the point: DeSantis is having quite the fallout in Florida with his executive order. The Florida School Board held an emergency meeting, and parents and others were allowed to call in with questions. Florida has enacted the "Parents' Bill of Rights," which gives parents the right to make decisions about their children's education and health. This is the basis upon which DeSantis outlawed masks in schools. That is all well and good, but it also means that other parents also have the right to protect their children from Covid. Their point is well taken, as the numbers do not lie.
According to WaPo, 8,400 students and 307 staff members in one school district in Florida have been quarantined as Covid continues to surge, which created the need for the emergency meeting. Florida's numbers continue to surge overall, with a new average of 21,700 cases per day and 16,800 hospitalizations. Though not as vocal about quashing mask mandates, Georgia's Governor Brian Kemp is not doing much better. Georgia was forced to close an entire school district after only two weeks of school because over 70 students and over 60 staff members have contracted Covid. A total of 679 are in quarantine. So, instead of learning, these children are now in either sick or in quarantine, showing that there is absolutely no purpose in opening schools without the proper precautions in place. Parents who feel that strongly about masks should homeschool their children and allow the others to attend free of Covid, which would be the fairest thing to do, but these governors need to stop trying to please a small segment of the population and do whatever is necessary to allow these children to go to school without risk of illness, including wearing masks.
One of the callers into the emergency board meeting was sick of the entire situation. He told Commissioner Richard Corcoran (who is a complete ass) and the board president that they all needed to stop "buying into the 'other guy's' nonsense" and protect their children. That is the bottom line. The children need to come before politics and the need to please a small, unreasonable constituency.
Shirley is a former entertainment writer and has worked in the legal field for over 25 years