The Republicans are handing the Democrats this huge talking point in the 2022 midterms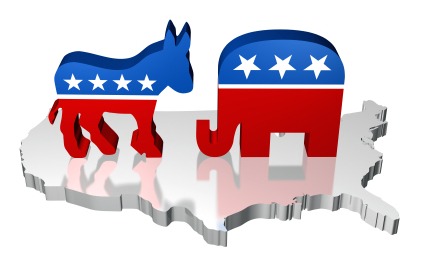 A short while ago, I wrote about the troubling (but fairly foreseeable pattern) of Republican congressional candidates having domestic violence issues. This would normally be bad by itself and plenty of fodder for an opponent to use against them in an election, but so far, there are five Republican candidates for 2022 credibly accused of physical assault that were also either endorsed or openly favored by Donald Trump. Now, someone else is noting the disturbing trend of poorly vetted candidates: Republican operatives.
Of course, they're concerned for the wrong reasons: maniacs like Sean Parnell, accused of domestic violence and also suing to "stop the steal" after the 2020 election, could cost them seats in pivotal elections, like the Pennsylvania senate race.
"There is no vetting process — at least not on policy and electability," a GOP donor and staunch Trumper Dan Eberhart finally brought himself to admit. Instead of exuding confidence, people in Eberhart's position have good reason to worry: "The endorsement process comes down to how much a candidate supports the former president and is willing to have the Trump machine run their campaign and fundraising. … Whether they are the most viable candidate in a given race is secondary."
This sounds like things we mostly knew already – but the problem is that Republicans are already admitting it publicly, just as the campaign season has begun to take off – and people like Eberhart are already giving Democratic candidates a sizable talking point that they can and should exploit to no end in this race: Do you want a party that can get things done or a Trump mouthpiece – the influence of the guy who got us into this whole mess to begin with?
James Sullivan is the assistant editor of Brain World Magazine and an advocate of science-based policy making