The real party of family values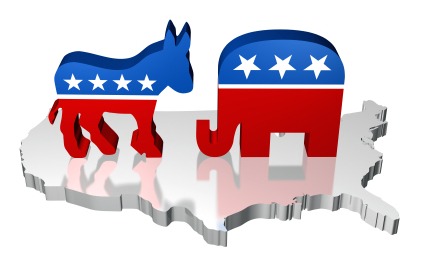 Republicans are crowing with glee that finally, finally someone who isn't a Republican is facing a sexual scandal. But then, if a bunch of loathsome criminals wait long enough, sooner or later someone out of a random collection of ordinary, decent citizens will break the law — or at least do something despicable.
To hear Republicans tell it, if you forget about the provable fact that they get caught in this kind of thing all the time and Democrats seldom do, you can even pretend for a moment that both parties are equivalent. If you extend that false equivalency to its logical absurdity, you can even make boneheaded proclamations such as "all politicians are corrupt."
That, of course, simply isn't the case. Some people go into politics to do good because they love their country and they want theirs to be legacies their families and communities can be proud of. Other people go into politics because they are corrupt and evil, or because they are insane ideologues who want to use power for their own advantage and as a weapon to harm people they hate.
If you want to know which party best represents which of those two groups, just look at their constituents. Republican constituents are easy to spot. They belligerently open carry AR-15s and other weapons of murder. They fly the flags of the enemies of America, like the flag of the Confederacy, or even the Nazi flag. Their faces are frequently twisted in hate. Their language is vulgar, obstreperous, confrontational. Their ideologies are defined by slogans and by fear: homophobia, islamophobia, xenophobia. They protest too loudly that they are courageous yet they can't even go to Wal-Mart without a gun. They are suspicious of science and education. They believe conspiracy theories. They cultivate ignorance and arrogance.
The constituents of Democrats are the volunteers. They can be found handing out food to the poor. They are people of all colors and beliefs united in a common purpose, the good of the human race and the preservation of the planet. They believe in science because they know it works. They are educated, or they know that education is a good thing. They believe that everyone should have a vote. They believe in the hard part of free speech, even when some speech promotes values and dogmas inimical to a free society, because they know freedom ultimately carries the day. They are the true moral majority. They are the true party of personal responsibility. They are the true party of family values.
Senator Chuck Schumer, Representatives Jerry Nader and Alexandria Ocasio-Cortez and most of the New York delegation in the House of Representatives are now calling for the resignation of Andrew Cuomo. It was a hard but courageous decision to make. It's hard when one of our own fails to live up to our standards. But when they fail, the best of our people, the Democrats in government, can always be counted on to do the right thing. They do it despite the fact that the evil scum in the Republican Party rejoice and point delighted fingers at us and hope that everyone will forget what they are.
Republicans love a pussy-grabbing ex-president with dozens of sexual assault victims to his shameful credit, and they hope we will forget that. They love a man who is actively fighting to keep his DNA out of court because he's a rapist.
Very soon, sometime this year if all goes well, the rapist Donald Trump may be required to testify under oath. The lawyers of E. Jean Carroll are seeking to depose Trump in a defamation lawsuit that Carroll filed against the former president in November 2019, after he denied her accusation that he raped her at a Manhattan department store in the mid-1990s.
In January 2020, Carroll's attorneys served a request for a DNA sample from Trump to compare against the unidentified male DNA on the black dress she was wearing when she was raped. If Trump were innocent he could easily destroy her case against him by simply producing his DNA as requested. Again, if Trump were innocent such an action would immediately prove the DNA on the black dress wasn't his and therefore he wasn't Carroll's rapist.
But Trump won't do that for the simple reason that he's guilty. There cannot be any other possible reason for a braggart and a blowhard like Trump, a man who loves to humiliate people in public. Nothing would please him more than to submit his DNA and have it fail to match the DNA on the dress. He would crow about it endlessly, the way he crows about his claim that the Mueller Report exonerated him, even though it did the opposite.
But DNA isn't open to the sophistry and misinterpretation that the Mueller Report was (very, very loosely) open to. Its conclusion will be either yea or nay, and there will be no way to spin it. Trump knows this. Trump also knows it's his DNA on Carroll's dress, and that's why he continues to fight it. Because Trump raped her. He hides behind his lawyers, like the shivering coward he is, and hopes no one will notice.
Meanwhile the true party of personal responsibility, the true party of family values and the true party of the moral majority passed a $1.9 trillion bill to help American families recover from the devastation of the coronavirus pandemic. Every single Republican voted against it. Every single one, without exception. Make no mistake, we, the Democrats, are the real party of family values. And, as ever, ladies and gentlemen, brothers and sisters, comrades and friends, stay safe.
Leave a Comment
Comments