The midterm math just changed ENTIRELY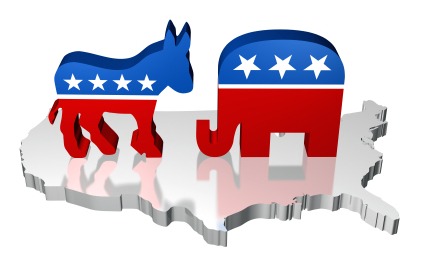 For awhile, the conventional wisdom on the 2022 midterm elections was that the Republicans had an advantage thanks to the traditional trend favoring the opposition party after a new President takes office, but that the Republicans were also going to do everything they could to screw up their own advantage. That's turning out to be the case, with two caveats. First, a number of Democratic candidates have turned out to be a lot better than advertised. Second, no one thought the Republicans would try this hard to blow it.
When the Supreme Court shamefully, unconstitutionally, tragically, and psychotically overturned Roe v. Wade at the start of the summer, it was clear that it would have a significant impact on the midterms. The vast majority of the nation is some degree of pro-choice, and this ruling set up 2022 to potentially be the first ever election in which pro-choice voters would finally turn out in the concentrated single-issue-voter manner in which the anti-abortion minority usually turns out.
Last night we got our first major data point on this front. Kansas Republicans put a referendum on the ballot which would have fully outlawed abortion in the state. But last night that referendum lost badly. At last count, more than 60% of voters sided with abortion rights. And this is Kansas we're talking about.
This shows that even in a deep red state like Kansas, pro-choice voters are lining up to turn out in unprecedented numbers. In other words, this Supreme Court debacle has created an army pro-choice single issue voters. This perhaps isn't surprising. Until recently is was inconceivable that the Supreme Court would actually do something as deranged as what it did. So while large numbers of voters and would-be voters may have considered pro-choice to theoretically be their top issue, they didn't treat it as their top voting priority – until now.
When it comes to the midterms, this changes everything. The most proven voting and polling experts out there believed that this Kansas referendum would end up coming down to the wire. But instead of being decided by a point or two, it ended up being an eighteen point blowout. And while national polls do show a similar ratio when it comes to abortion rights, last night's election took place in Kansas.
In other words, with all due respect to those who track these things for a living and are usually proven correct, the nationwide midterm math and polling now appears to be off entirely. This isn't the fault of polling experts; it's just that when something as unprecedented happens as Roe v. Wade being overturned, it can be difficult to gauge how many people who don't usually vote at all are suddenly going to be motivated to turn out. It can take a swing and miss such as the Kansas referendum for pollsters to be able to get a new baseline on just what the pro-choice voting army is going to look like in November.
None of this means that the Democrats are now just going to magically win the midterms. If anything, last night's Kansas shocker means that the real work begins today. Everything points to the midterm Senate races being close, with the Democrats having a real chance to keep and even slightly expand their Senate majority. But the Democrats face a much steeper task when it comes to keeping the House. Polls over the past month have pointed to the Democrats having clear momentum in the House midterms, but the Republicans still hold a clear statistical advantage. If anything, the Kansas results simply mean that the Democrats have a lot better of a fighting chance at keeping the House than anyone thought.
That's where you come in. Yeah, you. If you care enough about politics to be reading Palmer Report, you've already decided to vote in the midterms. But that's just the start. As a political activist, you have an opportunity – some would say a moral obligation – to do more.
The key is to focus on the specific House races that are going to be close and competitive to begin with. These are the kinds of races that have a strong chance of being decided by just a point or two, which means that you can personally make a difference just by getting involved. Sign up on these Democratic House candidates' websites right now:
Sharice Davids • Elissa Slotkin • Abigail Spanberger • Mike Levin • Greg Stanton • Angie Craig • Chris Pappas • Annie Kuster • Dina Titus • Susie Lee • Steven Horsford • Marcy Kaptur • Hillary Scholten • Josh Harder • Jahana Hayes • Sean Casten • David Trone • Christy Smith • Rudy Salas • Gabe Vasquez • Greg Landsman • Michelle Vallejo • Adam Gray • Eric Sorensen • Frank Mrvan • Jared Golden • Dan Kildee • Emilia Sykes • Jamie McLeod-Skinner • Matt Cartwright • Chris Deluzio • Elaine Luria • Kim Schrier • Yadira Caraveo • Wiley Nickel • Jevin Hodge • Kirsten Engel • Will Rollins • Jay Chen • Cindy Axne • Carl Marlinga • Tom Malinowski • Bridget Fleming • Susan Wild • Nikki Budzinski • Katie Porter • Don Davis
Keep in mind that you can help these candidates in ways big and small. If you have money, donate; a relatively small amount of money can go a long way in a lower profile U.S. House race. If you don't have money but you have time, volunteer; if you're not the door to door type, you can even volunteer from home, from another state, on clerical work. If you don't have the money or time, just share these candidate websites on your social media pages. Even if just a few of your followers see it and decide to contribute, you'll have made a difference. Now let's go win the House!
Bill Palmer is the publisher of the political news outlet Palmer Report