The Democrats now have the midterm momentum in the House AND the Senate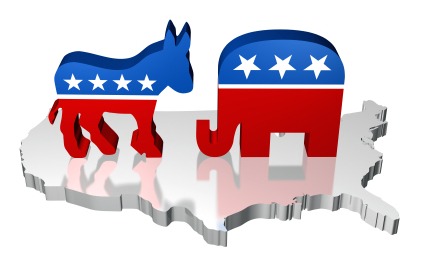 The experts are now saying the Democrats are the favorites to win the Senate in November, which of course gives the Democrats a realistic shot at expanding their Senate majority to 52 seats. Over the past month the experts have continued to bump the Democrats' odds of winning the House upward, but have continued to peg the Democrats as clear underdogs in the House midterms.
Last night's House special election victory by Democratic candidate Pat Ryan was remarkable in that he was behind by about ten points in the most recent polls. Rarely are the polls that far off in something as high profile as a U.S. House election. Even when the polls were famously wrong in the 2016 presidential election, the final polling averages were only off by two points. The idea that a U.S. House candidate can win by a couple points, when the polls said he'd lose by as much as ten points, is unprecedented.
So now we know that 2022 midterm polling is indeed very wrong. Of course we already suspected that, and we weren't the only ones. When something as landscape-altering happens as this Supreme Court meltdown, it's difficult to predict the size of the impact it'll have, because there's nothing historically to compare it to. Even the best pollsters are left to guess what a representative sample might look like in this new untested climate. And so we end up with results like the one last night, where the Democrat outperformed his poll numbers by double digits.
That doesn't mean every Democratic House candidate who's down by ten points in the polls is now going to win. There were other factors that gave away that Pat Ryan's race was more competitive than that. For instance, last minute internal polling, which ended up getting published, had Ryan down by just three points. But even that internal poll, which tends to have the benefit of being conducted with the kind of far more detailed voter information that only candidates and parties tend to have, underestimated Ryan's prospects by at least five points.
So does that mean Democratic House candidates are going to perform five points better than their poll numbers? We have no way of calculating that. And now that the polls have been shown to be so overwhelmingly incorrect in the NY-19 House race, pollsters will likely reevaluate and revise their polling methodologies in other House races, in an effort to land on more accurate numbers. So if anything, we may simply see Democratic House candidates' poll numbers continue to rise to more accurate ranges over the next few months, and then those poll numbers could turn out to be accurate.
In other words, we can't just sit back and presume that the Democrats are going to win close races. The one constant in every election cycle, no matter how many other variables may be involved, is this: the closest of races are ultimately decided by which side puts in the most work. That means donating, volunteering, phone banking, voter outreach, amplifying candidates' tweets and messaging, and so on. Those are the things that decide the elections that are close to begin with. If last night's election was always going to be a close one, then those of you who took the time to help out Pat Ryan's campaign are the reason it ended up being a close win and not a close loss.
So now is the time to ramp things up. If you helped out the Pat Ryan campaign, now you know the formula for victory, and you can apply it to these highly competitive House midterm races. And if you didn't have a chance to get on board with Pat Ryan, here's your chance to get in the game. Donate, volunteer online, phone bank, share the links, and spread the word for these Democratic House candidates right now. The clock is ticking:
Bridget Fleming • Susan Wild • Nikki Budzinski • Katie Porter • Don Davis • Tony Vargas • Brad Pfaff • Marie Gluesenkamp Perez • Elaine Luria • Kim Schrier • Yadira Caraveo • Wiley Nickel • Jevin Hodge • Kirsten Engel • Will Rollins • Jay Chen • Sharice Davids • Elissa Slotkin • Abigail Spanberger • Mike Levin • Greg Stanton • Angie Craig • Chris Pappas • Annie Kuster • Dina Titus • Susie Lee • Steven Horsford • Marcy Kaptur • Hillary Scholten • Josh Harder • Jahana Hayes • Sean Casten • David Trone • Christy Smith • Rudy Salas • Gabe Vasquez • Greg Landsman • Michelle Vallejo • Adam Gray • Eric Sorensen • Frank Mrvan • Jared Golden • Dan Kildee • Emilia Sykes • Jamie McLeod-Skinner • Matt Cartwright • Chris Deluzio • Cindy Axne • Carl Marlinga • Tom Malinowski
Bill Palmer is the publisher of the political news outlet Palmer Report