Sidney Powell is going through some things today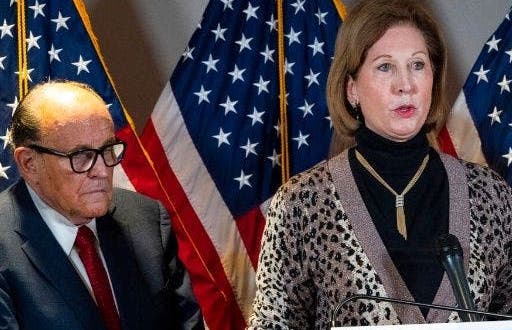 The wheels of justice turn way too slowly, but they nonetheless turn. Trump-adjacent lawyers including Sidney Powell and Lin Wood were forced to appear before a judge in Michigan today, in an initial hearing to determine whether they should be disbarred and/or face other court imposed sanctions. It didn't go well for them.
The Judge systematically dismantled the ridiculous lawsuit that Sidney Powell and her pals filed late last year, which used phony evidence to claim that Donald Trump won Michigan. Yet even as this played out today, Powell incredibly made the claim that she stood by the suit and that she'd file it all over again if given the chance.
Meanwhile Powell's associate Julia Haller was reduced to tears during the hearing. Lin Wood spent the entire time insisting that he had no idea he had even been a part of the election lawsuit; it's still not entirely clear if he's just playing dumb or if he really is psychologically unraveling this badly.
In any case, this hearing went poorly for all of the lawyers who were involved in the phony suit, but particularly badly for Sidney Powell. The Judge ended up giving them two weeks from today to file whatever they want to file that they think might help their case. But if the tenor of today's hearing was an accurate indicator, then Powell and her pals appear headed for disbarment.
Bill Palmer is the publisher of the political news outlet Palmer Report