New numbers all say the Democrats now have the momentum in the House midterms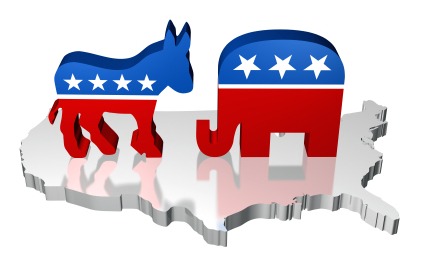 With dozens of Senate races and hundreds of House races playing out all at once across the country, it can be difficult to find one metric for assessing how each party is doing, or which way the momentum is shifting. But one such metric is called the generic midterm ballot, which simply asks likely midterm voters which party they're planning to vote for.
So it's notable that a new generic midterm poll from Morning Consult shows the Democrats having shifted from minus-three in May, to now plus-eight. That's an eleven point swing. We don't like to look at one poll without putting it within the context of the other recent polls. Fortunately, Simon Rosenberg has done just that, and it shows the Democrats having a three to seven point lead in various other recent generic midterm polls.
It's important to keep in mind that tactics such as gerrymandering and voter suppression will generally give the Republicans a built-in advantage of at least a few points. So the Democrats have to be well ahead in the generic midterm polling just for races to end up a tie, so to speak.
But while the House midterms continue to be a challenge for the Democrats, every indicator – from generic polling, to Cook Political Report ratings, to FiveThirtyEight formulas – now point to the Democrats at least having momentum in the House midterms.
If you're looking to help put the Democrats over the top in the House midterms and give them real momentum, now is the time to donate, volunteer, or sign up to learn how to spread the word. Check out these Democratic candidates who are running in close competitive House races that could be decided by as little as one point:
Sharice Davids • Elissa Slotkin • Abigail Spanberger • Mike Levin • Greg Stanton • Angie Craig • Chris Pappas • Annie Kuster • Dina Titus • Susie Lee • Steven Horsford • Marcy Kaptur • Hillary Scholten • Josh Harder • Jahana Hayes • Sean Casten • David Trone • Christy Smith • Rudy Salas • Gabe Vasquez • Greg Landsman • Michelle Vallejo • Adam Gray • Eric Sorensen • Frank Mrvan
Bill Palmer is the publisher of the political news outlet Palmer Report