Federal Government goes after Ron DeSantis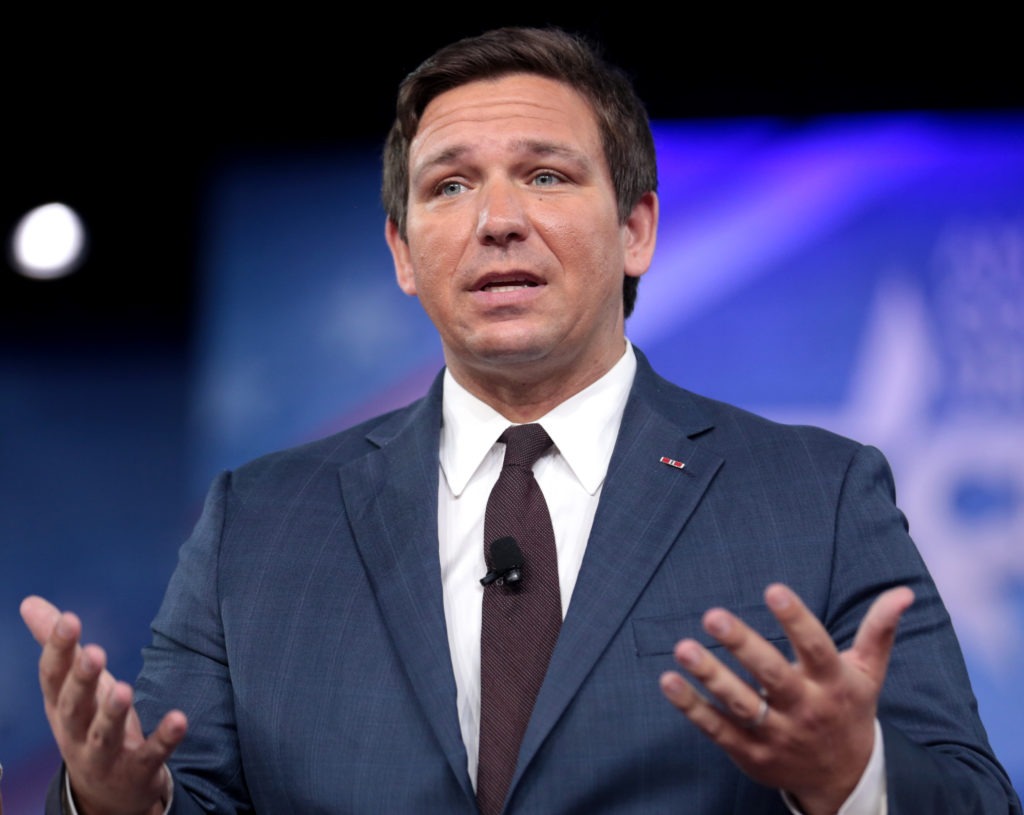 Republicans must not care about the need for mask mandates in school. Florida is a great example of why we need them. The Florida Education Association ("FEA") has released its Safe Schools Report for 2020-21, and it is tragic. Since opening schools in Florida with no mask mandates in place on August 10, ten school age children have died. Another 200,834 children have tested positive for Covid, and 21 schools have been forced to close. On July 6, Florida Education Commissioner Richard Corcoran ordered schools reopened, and 46 educators have died. These grim numbers continue: Florida currently has a 14.6% pediatric positive testing rate, 116,881 Pre-K students and staff have tested positive, and 1,235 classes have been closed or quarantined.
Now, if those numbers fail to have any impact on DeSantis and his cronies, they are certainly impactful on the rest of us. As part of DeSantis's gag orders on local health departments, FEA will no longer be able to provide updated numbers. Continuing along this vein, Commissioner Corcoran issued a press release late on August 30 announcing that the salaries of school board members in Alachua and Broward will be withheld in retaliation for their mandatory mask mandates. Corcoran is quoted in the release: "We're going to fight to protect parents' rights to make health care decisions for their children." Please. These people do not care about parents' rights. If they did, they would consider the rights of parents whose children are likely to suffer severe illness and death—children with Down syndrome, asthma, autism, and many other disabilities. Do those children not matter or is it more important to make a political point? Are these children merely collateral damage? Whatever their reasons, this insanity must stop, and the U.S. Department of Education is stepping in.
Washington Post reported that the USDOE is opening investigations into five states that are prohibiting universal mask mandates. Approaching the investigation under violation of civil rights and the ADA, the administration has reached out to Iowa, Oklahoma, South Carolina, Tennessee, and Utah, advising that they are violating the rights of disabled children who have equal rights to a free, safe education. Unfortunately, two of the worse—Florida and Texas—are not on the list. According to WaPo, that is because some school boards in those states are refusing to ban masking, though in the case of Florida, the administration may have to step in to stop leaders from withholding pay from board members. This is a complete mess, and there is no reason for it. These children and educators should not be used to make political points for people who have it all wrong. Clearly, protections need to be in place for children to safely attend school, especially children with disabilities who need time in the classroom the most.
One court has already ruled that DeSantis's order is unconstitutional. How many more children and teachers must die before that becomes the law in Florida and elsewhere for that matter? These idiot politicians are allowing people to die, and that must not be allowed.
Shirley is a former entertainment writer and has worked in the legal field for over 25 years
Leave a Comment
Comments